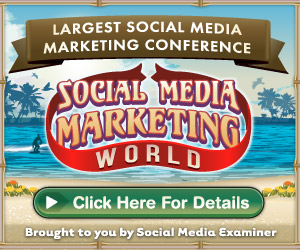 (Links in this post are affiliate links.)
I went to Social Media Marketing World last year and really enjoyed it. Learned a lot and met some great people. And guess what? I finally decided to do it again this year.
Why? Lots of networking opportunities. You meet new people and get to talk shop as much as you want with people who understand what you do. But don't approach it from a "What can you do for me?" attitude. Just treat everyone with respect and realize that person you meet now could send you business or answer a question or just become a really awesome friend.
It's in San Diego. Need I say more? Yeah, I live here and I love it. You will, too.
There's not a ton of time left, so go get your ticket while you can. Buy before Friday and you'll get $100 off the price of your ticket. What are you waiting for? See you there!
Can't make it in person? Save $250 on a virtual ticket before Friday as well!